Gilmour 801673-1001 Sprinkler Head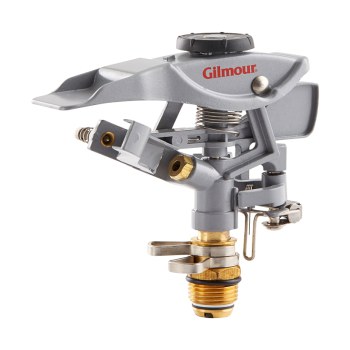 Click Image to Enlarge
Water coverage up to 5800 sq-ft and radius of 43 ft. Diffuser screw allows for easy fingertip adjustment of water stream for even highlights. Provides full or partial coverage. Impulse arm saves water by eliminating back and side splash. Long-lasting brass and zinc construction on impulse head.
Long-lasting metal head that resists dings, dents and rust
86 ft Dia circular spray pattern
Adjustable collar for partial to full circle coverage
Diffuser pin customizes spray, from powerful jet to gentle mist
Dimensions 5.8 in W x 2.75 in D x 7.8 in H
Full-Circle/Part-Circle Full/Part Circle
Height: 6.8"
Length: 8.6"
Width: 8.5"