Coles Special Feeder SF05 Blended Bird Food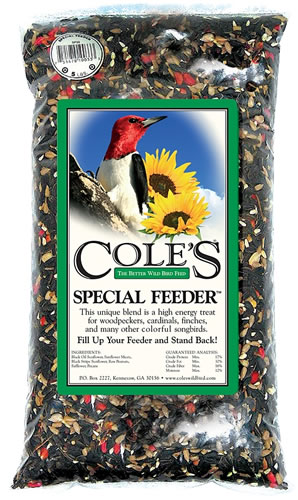 Click Image to Enlarge
Special Feeder unique mix is a high-energy treat for many birds. Originally developed for use in pavilion-like, wooden feeders that prevent smaller seeds from being kicked out for ground feeders. This popular blend attracts the greatest number of wild birds especially woodpeckers than any other mix out there.
Container Type Bag
Ingredients Black Oil Sunflower Black Striped Sunflower Pecans Raw Peanuts Safflower Sunflower Meats
Net Content 5 lb
Suitable Feeder Type Bountiful Bowl Mighty Mesh Terrific Tube
Height: 10.000"
Length: 15.500"
Width: 12.000"