Behrens Metalware Classics 206RH Watering Can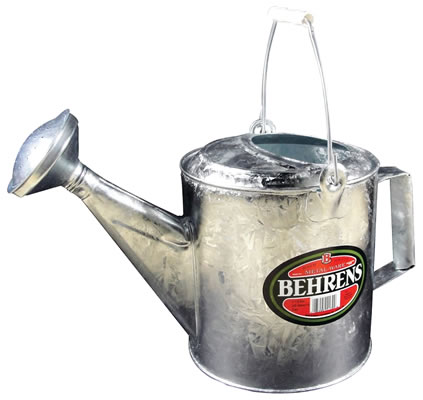 Click Image to Enlarge
Add style and durability to your gardening routine with a 1.5 gal galvanized watering can from Behrens. Built with the highest quality hot dipped steel, this watering can is made to handle small watering needs. The rustic watering can features an offset bottom to keep the can off the ground, a secure side handle and a red birch wood handle for easy portability and pouring. The oversized galvanized rosette of the 1.5 gal watering can is ideal for your small watering needs including patio flowers, small boxed garden and more. A stronger alternative to plastic, the galvanized watering can is rodent-resistant, recyclable and weather-resistant. Sealed to be watertight. May contain globally sourced materials. Rest assured. Behrens products are thoroughly tested and do not require any PROP65 warning labels. Built for now. Made to last. Behrens is committed to the environment which is why most of our products are made from 100% galvanized steel. When metal products reach the end of their useful life, the materials are simply collected and recycled, again and again, with no loss of their inherent properties. Steel is the most recycled material on earth. 100% of Behrens Manufacturing scrap is returned to be recycled and converted into new steel products.
Red painted white birch wood handle
Can Capacity 1.5
Color Steel Sage
Finish Hot-Dipped Galvanized
Length 15-1/2
Material Steel
Width 8/1/2002
Height: 12.25"
Length: 18.5"
Width: 20.85"