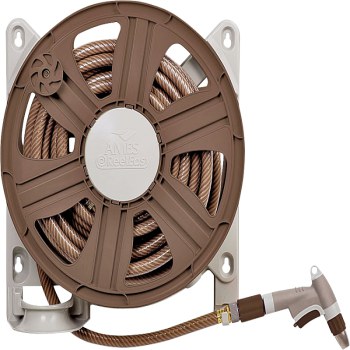 Click Image to Enlarge
This side-mount style hose reel mounts easily to the wall and provides a simple solution to hose storage. The easy-spin grip provides added comfort as you wind and the neutral color scheme blends in nicely with any outdoor living space. The integrated hose guide aligns your garden hose with the reel to make winding easier and the clip provides a convenient place to store your hose when not in use.
Reel is fully assembled and easy to mount
Color Brown/Tan
Dimensions 8 in W x 19 in D x 20 in H
Hose Capacity 100 ft of 5/8 in
Hose Size 5/8 inch
Includes Leader Hose
Material Poly
Mounting Type Wall
Reel Diameter 18 in
Height: 20"
Length: 36"
Width: 22"