Achla SL-SV01BLL Blue Lapis Teardrop Solar Vase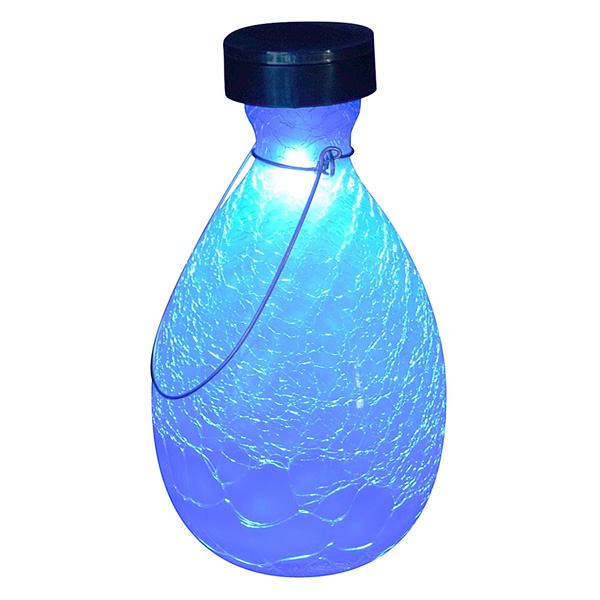 Click Image to Enlarge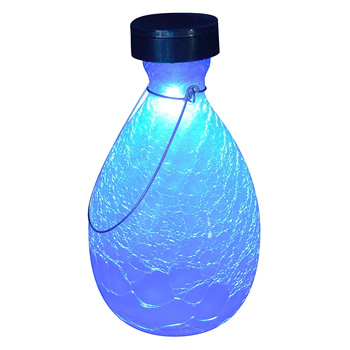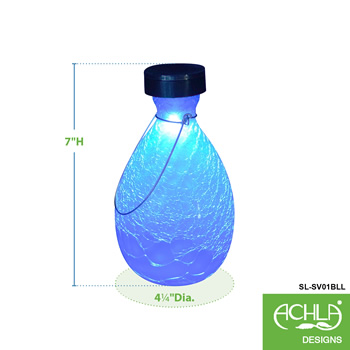 Achla SL-SV01BLL Blue Lapis Teardrop Solar Vase
Oacslsv01bll
$15.99


Please note: We cannot ship this item to Alaska, California, Hawaii, Puerto Rico or Canada
The Achla Designs Solar Crackle Vases are perfect for adding elegant, soft light to your outdoor living decor. Made of colorful hand-blown glass, we use a layered glassmaking technique that gives the glass a crackled surface and interior etching to produce a glowing beach-glass effect. At the top of each glass vase, there is a bottleneck on which a solar cap sits. This solar panel contains an internal battery to power the LED light. The battery gets charges as the solar panel is exposed to direct sunlight, and a light sensor switches on the LED at dusk. The light shining through colored glass, creates a beautiful glow, adding a magical ambiance to your patio, pathway, or garden. Each glass lantern also features an aluminum handle which can be used to hang the lantern from a shepherd's hook, wall bracket, from an arbor, or even a tree branch. A single solar vase is lovely on an outdoor patio table or use several to line a pathway or to border a garden. Since there are no power cables, these Solar Vases can easily be moved to any location in the home or yard. In two shapes, Goblet and Teardrop, and four crackle glass colors.
Light up a patio table, or garden, or hang the lamp from a hook or bracket, a shepherd's hook in your garden, a garden arbor or tree branch
Powered by a solar panel in the black plastic cap that sits on top of the glass. This solar panel contains an internal battery that gets charged during the day as the solar panel is exposed to direct sunlight. Then as the sun goes down, the battery is able to power the light for about six hours.
Made from hand-blown colored glass with a crackled texture, shaped like a teardrop, measuring just over 4-in diameter x 7-in H
Available in four different ethereal colors, Blue Lapis has the frosty washed light of beach glass. As the solar powered light shines through the crackled, colored glass, a magical soft glow is creates a wonderful ambiance.
Strong aluminum wire handle makes the lanterns easy to hang from just about any hook, they are easily moved about, with no power cord to worry about
Material:
Glass, Aluminum Wire, Solar Cap
Finish:
Blue Lapis
Assembly Required:
Yes
Achla Product Number:
SL-SV01BLL