Achla SFR-08-2 8 Inch Flower Pot Ring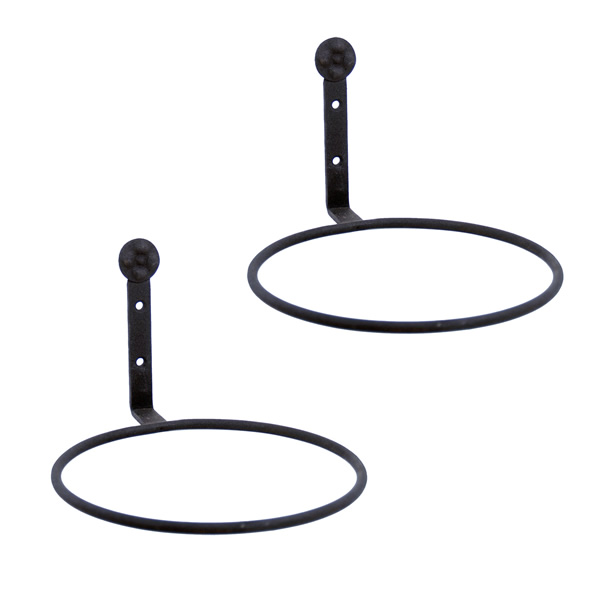 Click Image to Enlarge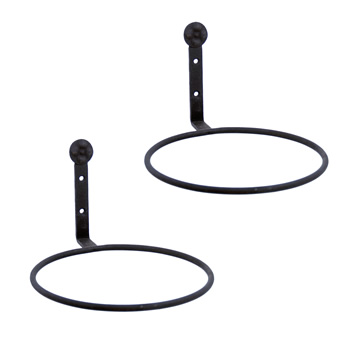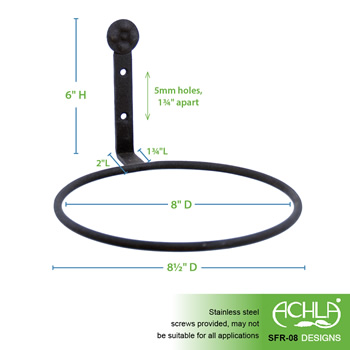 Achla SFR-08-2 8 Inch Flower Pot Ring
Oacsfr082
$23.99


Please note: We cannot ship this item to Alaska, California, Hawaii, Puerto Rico or Canada
For orchids, or geraniums, succulents or violets, these iron ring brackets are ideal for holding all of your favorite flowers and plants, indoors and out. Each bracket attaches at a 90-degree angle, and comes with stainless steel hardware, providing you with a simple, long-lasting mounting solution. Made from sturdy wrought iron and finished with a black powder coat to resist corrosion and weathering better than most conventional paint finishes. For porches, balconies, decks, farm house, lake house, or beach house, our Flower Pot Rings come in 3 different sizes to hold small or large flower plants and a Clamp-on style for railings. Make a creative arrangement with the several rings of the same size, or use a variety. All brackets sold in pairs.
For rimmed planters, whether full of orchids, or geraniums, these wrought iron Flower Pot Rings are ideal for holding flowers and plants to take advantage of vertical gardening space. These sturdy wall-mounted brackets can hold a variety of containers. The 8-inch Flowerpot Ring has an interior diameter of 8-in.
Easy to mount indoors and out, on a wall, fence post, or any flat surface that is stable enough to hold the metal bracket and install with the included hardware.
Made of wrought iron and finished with a corrosion resistant Black powder coating.
Stainless steel hardware included is suitable to hang brackets on wood walls or posts. For masonry or other materials, appropriate fasteners are recommended.
Black powder coated for maximum weather resistance
Material:
Wrought Iron
Finish:
Black Powdercoat Finish
Assembly Required:
No
Achla Product Number:
SFR-08-2