Achla PC-01 Preening Crane Pair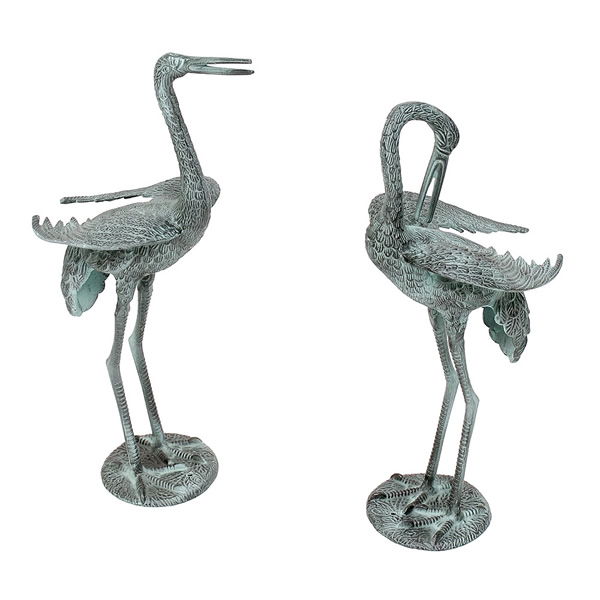 Click Image to Enlarge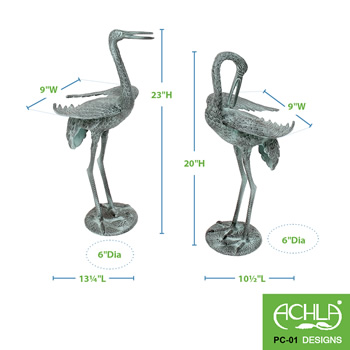 Achla PC-01 Preening Crane Pair
Oacpc01
$119.99


Please note: We cannot ship this item to Alaska, California, Hawaii, Puerto Rico or Canada
The glorious mating dances and lovely plumage of the crane has inspired much lore in many cultures. A pair of cranes mate for life and have long been seen as a symbol of joy, happiness and eternal youth. When one thousand origami cranes were made by a Japanese school-girl after World War II the crane also came to symbolize peace. These Preening Crane statues are a great addition to any backyard habitat, garden or water feature. Masterfully crafted for a realistic appearance, in two poses, Crane statues make an excellent gift for weddings, garden enthusiasts and bird lovers. For years, Achla Designs has been creating unique, European-inspired garden accessories that suit decoration tastes of all kinds. Make sure that your front and back yard are complete with the best in outdoor decor from Achla Designs.
Bring the coastal life to your home with this Pair of Preening Crane lawn ornaments. These animal statues are lovely in any garden, but they look especially beautiful in lake house, pond side, and riverside gardens, or near water features. These graceful birds posing at your serene waters bring tranquility to the scene.
Decorative bird sculptures come in a verdigris green-gray finish that will nicely stand out amongst your other garden décor and plantings. The first Crane stands with head up at 23-in H and the other stands with head down at 20-in H
Naturalistic appearance, with plumes of feathers carefully etched and legs are ridged with texture
Crafted from cast aluminum, with painted finish is a subtle color to complement the surrounding natural beauty of your plantings, long-lasting and will not rust
Preening Crane garden accents come with stakes to anchor in the ground and secure for windy weather. Holes are provided in the feet to insert the stakes. The statues can also stand on their own on a porch or patio surface, even indoors.
Material:
Cast Aluminum
Finish:
Blue-Grey Verdi Painted Finish
Assembly Required:
No
Achla Product Number:
PC-01