Achla OBL-25 Lattice Obelisk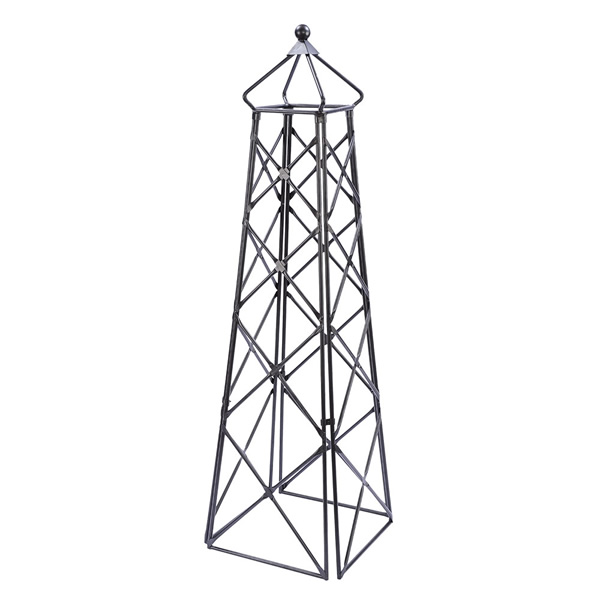 Click Image to Enlarge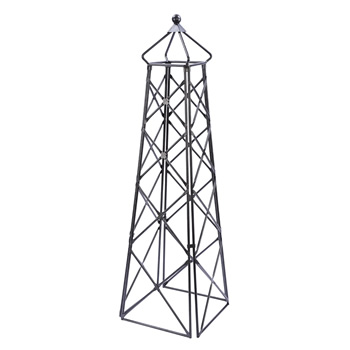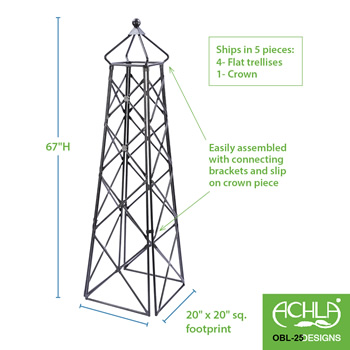 Achla OBL-25 Lattice Obelisk
Oacobl25
$140.99


Please note: We cannot ship this item to Alaska, California, Hawaii, Puerto Rico or Canada
Create an elegant garden with a handcrafted wrought-iron trellis by Achla Designs. We make a wide variety of sizes and decorative styles to fit every garden, offering the functionality of a sturdy plant support and the artistic beauty of an elegant wrought iron structure. Add a simple, bold, 3-dimensional statement at your path or entryway with the Lattice Obelisk. Perfect for mandevilla, climbing jasmine, or black-eyed Susan vine on your deck or patio. Flank a path or entryway with blooming tea roses, create a stunning column of blooms at your entryway, or lift cucumber vines in the vegetable bed. Coordinating pieces in the Lattice Design group allow you to create a Cottage garden style theme.
The Lattice Obelisk garden trellises by ACHLA Designs can be used to add a functional and decorative vertical feature to the garden
Attractive square pillar shape, with or without cover of foliage, makes an elegant addition to any outdoor garden, flanking an entry, lining a walk or pathway, even for weddings or event décor. Add to a bed, border, or large container planting to lift blooms to eye level.
Ideal for climbing plants, ornamental or edible- snap pea, runner beans, cucumber, mandevilla, or moonflower, in large containers, along paths or in flowerbeds. Freestanding support can be placed in any area of the home, yard, porch, patio, or garden.
Airy wrought iron pieces are slim yet strong, providing a strength and longevity that can reliably support your plantings for many seasons. With a classic graphite corrosion-resistant finish that has the look of natural wrought iron. All Achla Designs Trellises are finished with a powder coating that is more resilient than liquid paint. The wrought iron is sealed leaving a hard finish that won't chip or corrode easily and will last more than just one season.
Create a Cottage Garden style with coordinating items- our Lattice Arbor, Lattice Garden Bench, or Lattice Wall Trellis or Free-Standing Lattice Trellis
Material:
Wrought Iron
Finish:
Graphite Powdercoat Finish
Assembly Required:
Yes
Achla Product Number:
OBL-25