Achla OBL-02 85 Inch Obelisk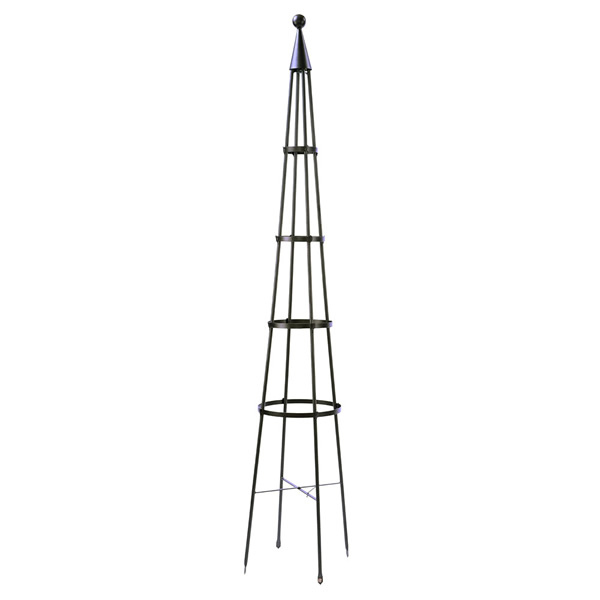 Click Image to Enlarge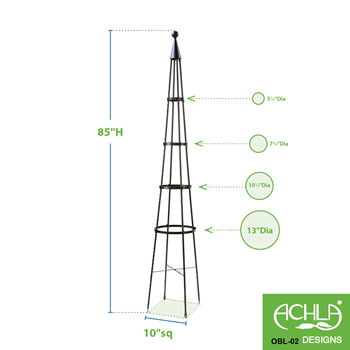 Achla OBL-02 85 Inch Obelisk
Oacobl02
$81.49


Please note: We cannot ship this item to Alaska, California, Hawaii, Puerto Rico or Canada
Create an elegant garden with a handcrafted wrought-iron trellis by Achla Designs. We make a wide variety of sizes and decorative styles to fit every garden, offering the functionality of a sturdy plant support and the artistic beauty of an elegant wrought iron structure. With their pointed tops and ball-shaped finials, the Obelisk trellises have a playful storybook architecture reminiscent of secret gardens and enchanted forests. Plant with morning glory, sweet peas or fragrant climbing jasmine. Available in two sizes.
The Obelisk Garden Trellises by ACHLA Designs can be used to add a vertical feature to the garden, makes an elegant addition to any outdoor garden bed, or border, or large container planting.
Simple design with 4 metal legs that stake into the ground, a series of horizontal hoops and a conical finial. Use them to at an entry, line a walk or pathway, even for wedding décor.
Ideal for any type of climbing plant, ornamental or edible- snap pea, runner beans, cucumber, mandevilla, or moonflower, in containers or flowerbeds., the free-standing support can be placed in any area of the home, yard, porch, patio, or garden
Wrought iron trellises are slim yet strong, providing a strength and longevity that can reliably support your plantings for many seasons. In two sizes, at 61-in H and 85-in H. Designed to ship flat and be easily erected. Compress the legs and the slim profile takes little space to store away at season's end.
Made of wrought iron and finished with Graphite powder coating, for weather resistance with the look of natural iron
Material:
Wrought Iron
Finish:
Graphite Powdercoat Finish
Assembly Required:
Yes
Achla Product Number:
OBL-02