Achla FT-42S Primrose Trellis Set of 2 Side Panels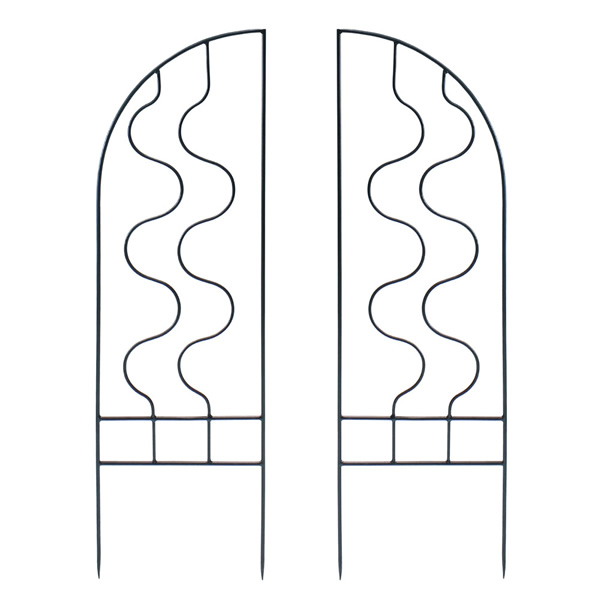 Click Image to Enlarge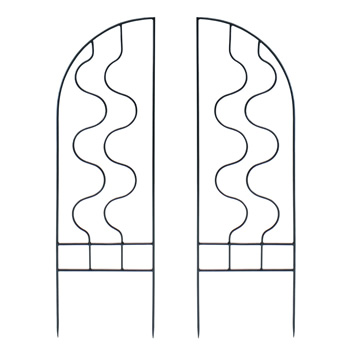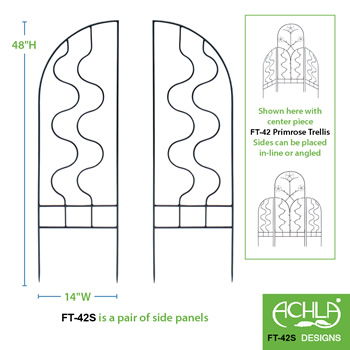 Achla FT-42S Primrose Trellis Set of 2 Side Panels
Oacft42s
$94.99


Please note: We cannot ship this item to Alaska, California, Hawaii, Puerto Rico or Canada
For any avid gardener or plant lover, finding enough vertical space for your climbing vines, flowers, vegetables, or runners can be a challenge. Many people choose traditional wrought iron trellises and arbors for their combination of strength and graceful style. With the Primrose Trellises by ACHLA Designs, you get not only the functionality of a sturdy plant support, but also the artistic beauty of an elegant wrought iron feature. The light and airy Primrose Trellis provides large-scale support and screening without feeling massive. The gently arching center trellis can be used on its own or with the corresponding side trellises. Place the side pieces in line or at an angle to create a backdrop or vignette, highlighting a special specimen or garden ornament. Once staked into the ground, the trellis can be additionally supported with wall brackets, if desired.
Ornamental decorative trellises with traditional wrought iron craftsmanship, light airy flower and vine details, and many points of contact for climbing garden plants
Easy installation for decorative plant support, simply slide the trellis components together and push the legs directly into the garden soil. Trellises can be additionally secured with Achla Designs Trellis Wall Brackets (FTB-02)
For vertical gardening and efficient use of garden space, set the Primrose Trellises in any area of the garden, free-standing or against a wall. Trellising is a vital gardening tool, and beautiful trellises in your yard add an element of art to the landscape. Use the additional side panels set at angles to create a garden vignette. Use for clematis, climbing hydrangea, roses, green screening with annual flowers or beans.
With sturdy construction that will last for years, the Primrose Trellis is 28"W x 72"H with optional Primrose Side Pair Panels that are 14""W x 48"H each. These handmade metal trellises are a cut above traditional wood lattice or utilitarian netting, ideal for growing perennials as a focal point of the garden.
Made of wrought iron and finished in Black powder coating for maximum weather resistance
Material:
Wrought Iron
Finish:
Black Powdercoat Finish
Assembly Required:
No
Achla Product Number:
FT-42S