Achla FT-28 84 Inch Ferro Firenze Trellis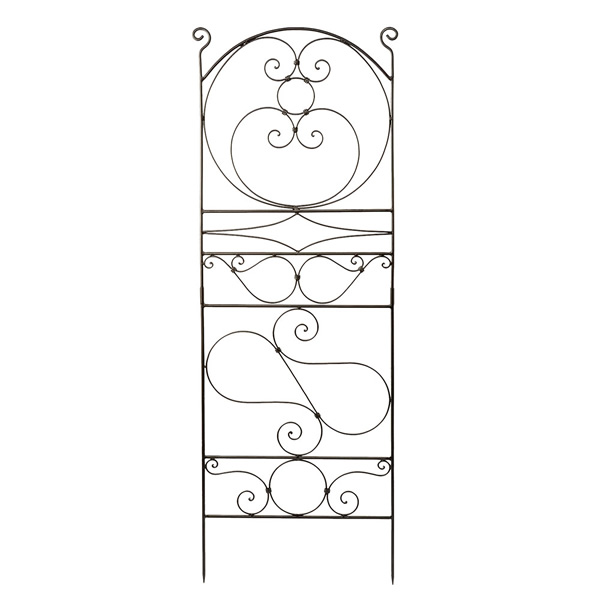 Click Image to Enlarge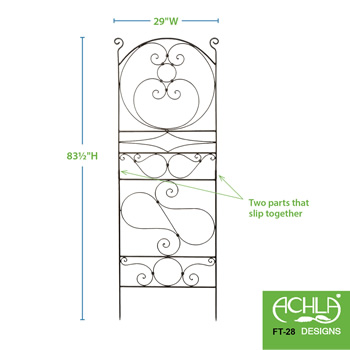 Achla FT-28 84 Inch Ferro Firenze Trellis
Oacft28
$123.99


Please note: We cannot ship this item to Alaska, California, Hawaii, Puerto Rico or Canada
For any avid gardener or plant lover, finding enough vertical space for your climbing vines, flowers, vegetables, or runners can be a challenge. Many people choose traditional wrought iron trellises and arbors for their combination of strength and graceful style. With the Ferro Firenze Trellises by ACHLA Designs, you get not only the functionality of a sturdy plant support, but also the artistic beauty of an elegant wrought iron structure. These beautiful trellises feature a distinct Italianate aesthetic to bring a bit of old-world European craftsmanship to your home and garden. Available in two sizes, with a matching Ferro Firenze Arbor to complete a classical garden theme.
A decorative diversion from the traditional square garden trellis, with sweeping curves and graceful curls in a classic European ironwork style. These trellises provide many points of contact for climbing garden plants to attach, ideal for roses, clematis, wisteria.
Easy installation for decorative plant support, slide the two components together without needing tools and the legs can be pushed directly into the garden soil. Stake the trellis into the ground, and simply encourage vining plants to work their way up.
For garden beds and borders, these trellises can be used for outdoor vertical gardening in-ground or for container potted plants. Trellising is a vital gardening tool, and beautiful trellises will make attractive accent pieces or focal points in your yard. Optional wall brackets may be used to additionally secure the trellis, if needed.
Airy wrought iron pieces are slim yet strong, providing a strength and longevity that can reliably support your long-term perennial plantings. The Ferro Firenze I is 65 ½" H x 22" Pair with our Ferro Firenze Arbor with a matching Ferro Firenze Arbor to complete a classical garden theme.
Finished with a Roman Bronze powder coating for the old world feel of vintage wrought iron, with weather resistance, to last more than just one season
Material:
Wrought Iron
Finish:
Roman Bronze Powdercoat Finish
Assembly Required:
No
Achla Product Number:
FT-28