Achla BB-02AB-S Antique Birdbath With Birds and Stake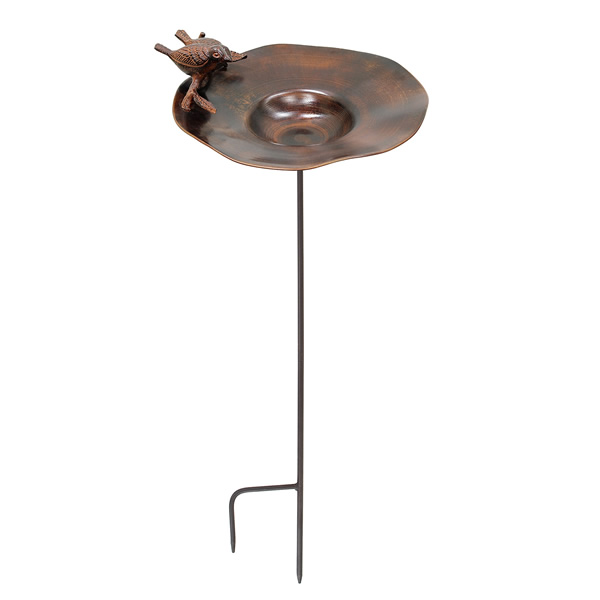 Click Image to Enlarge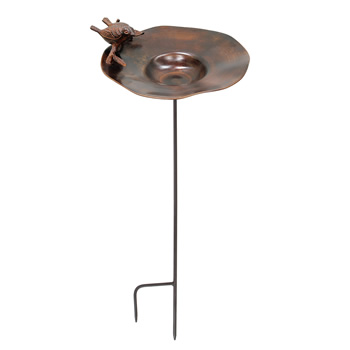 Achla BB-02AB-S Antique Birdbath With Birds and Stake
Oacbb02abs
$80.99


Please note: We cannot ship this item to Alaska, California, Hawaii, Puerto Rico or Canada
The Antique Birdbath from Achla Designs is a sculptural piece of garden art that also benefits the wildlife in your yard. Birds will love having a safe place to cool off and drink some water, and gardeners will love having this beautiful piece to accent the plantings. A lovely garden accent adds depth, dimension, and a focal point to a perennial bed, water feature or other natural setting. This beautiful brass birdbath has a soft bowl with two cheerful songbirds perched on the wide undulating rim. and a Antique Copper finish.
Invite nature into your yard! Birds in the garden are looking for water to drink and splash in outdoors and the Antique Birdbath is a beautiful way to provide water for backyard birds year-round.
Make a functional and artful addition to any perennial bed, water feature, or natural setting in your yard. The undulating copper bowl features a pair of sculpted love birds perched at the edge.
Formed from brass with solid cast aluminum bird detail and finished with an Antique copper finish that gives this piece a vintage charm. Bowl measures 13-in diameter by 2 3/4-in D.
The underside of the bowl has a threaded hub that attaches to the top of the wrought iron stake
Stake directly into garden beds- 36" Roman Bronze wrought iron garden stake features a two-pronged design for increased stability
Material:
Brass and Aluminum
2nd Material:
Wrought Iron
Finish:
Antique Patina
2nd Finish:
Roman Bronze Powdercoat Finish
Assembly Required:
Yes
Achla Product Number:
BB-02AB-S