O'Keeffe's for Healthy Feet Cream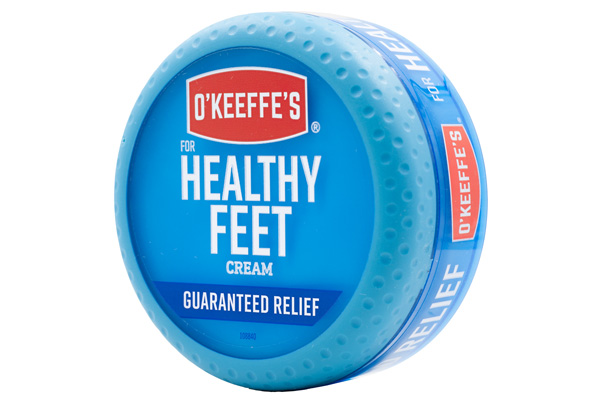 Click Image to Enlarge
O'Keeffe's for Healthy Feet is a specialized foot cream that has gained recognition for its ability to provide relief and repair for dry, cracked, and calloused feet. This foot cream is designed to deeply moisturize and restore the skin's natural barrier, helping to prevent and heal dryness and roughness. Its highly concentrated formula, enriched with glycerin and moisturizing ingredients, works to penetrate the thick skin on the feet, delivering long-lasting hydration and promoting soft, healthy feet.
To use O'Keeffe's for Healthy Feet, start by washing and drying your feet thoroughly. Then, apply a small amount of the cream to the affected areas, such as the heels, soles, and sides of the feet. Massage the cream into the skin until fully absorbed. The non-greasy texture of the cream allows you to comfortably wear socks or shoes immediately after application. For best results, it is recommended to use the foot cream regularly, especially before bedtime, to maximize the healing and moisturizing benefits.
O'Keeffe's for Healthy Feet has received positive feedback from individuals who have struggled with foot problems, such as dryness, cracks, and calluses. Many users have reported significant improvements in the texture and appearance of their feet after consistent use. The cream's effectiveness in providing long-lasting hydration and restoring the skin's health has made it a trusted choice for those seeking relief from dry and damaged feet. O'Keeffe's for Healthy Feet offers a reliable solution for anyone looking to maintain soft, smooth, and healthy feet, regardless of their daily activities or lifestyle.
Size:
2.7Oz
Ingredients:
Water, Glycerin, Stearic Acid, Sodium Hydroxide, Allantoin, Paraffin, Hydroxypropyl Methylcellulose, Octyldodecyl Stearate, Diazolidinyl Urea, Iodopropynyl Butylcarbamate, Acrylates/Acrylamide Copolymer, Mineral Oil, Polysorbate 85