O'Keeffe's Working Hands Cream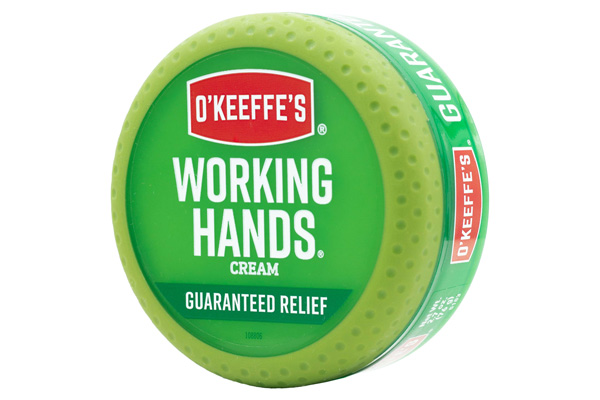 Click Image to Enlarge
O'Keeffe's Working Hands is a highly acclaimed hand cream that has become a go-to solution for individuals who experience dry, cracked, and rough hands due to demanding work or harsh weather conditions. This hand cream is specifically designed to provide intense hydration and healing for hardworking hands. Its unique formula, which includes a high concentration of glycerin and moisturizing ingredients, penetrates deeply into the skin, helping to repair and restore moisture levels.
When applying O'Keeffe's Working Hands, a little goes a long way. Start by massaging a small amount of the cream onto your hands, focusing on areas that need extra attention, such as calluses or cracked skin. The non-greasy and fast-absorbing texture allows you to continue with your daily tasks without leaving a residue behind. With regular use, this hand cream works to create a protective barrier that locks in moisture, preventing further moisture loss and keeping your hands soft and smooth.
O'Keeffe's Working Hands is known for its effectiveness in addressing even the toughest cases of dry and damaged hands. Many users have reported significant improvements in their skin's texture and appearance after consistent use. The cream's reputation for delivering visible results, combined with its durable and portable packaging, has made it a trusted choice for individuals in various professions, such as construction workers, gardeners, healthcare workers, and anyone who works with their hands. O'Keeffe's Working Hands provides much-needed relief and restoration for hardworking individuals, allowing them to continue pursuing their passions without the discomfort of dry, cracked hands.
Size:
2.7Oz
Ingredients:
Water, Glycerin, Stearic Acid, Sodium Hydroxide, Paraffin, Hydroxypropyl Methylcellulose, Allantoin, Octyldodecyl Stearate, Diazolidinyl Urea, Iodopropynyl Butylcarbamate, Acrylates/Acrylamide Copolymer, Mineral Oil, Polysorbate 85