Norpro 865R Red Apple Master with Clamp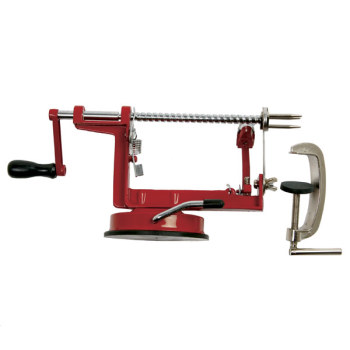 Click Image to Enlarge
Same as the Norpro 865 Apple Master in a beautiful red color to match your kitchen's decor!!
Are you ready to revolutionize the way you prepare apples? The Red Norpro 865 Apple Master is your all-in-one solution, designed to peel, slice, core, and even create spiral delights effortlessly. Say goodbye to manual labor and hello to a world of efficient apple prep! Why settle for anything less? The Red Norpro 865 Apple Master is the epitome of convenience, combining paring, slicing, coring, and spiralizing functions in a single, ingenious design. Experience the luxury of having all your apple preparation needs met with one remarkable tool.
With its advanced paring blade, the Apple Master skillfully removes apple skins, revealing the succulent fruit within. No more tedious peeling sessions - let the Apple Master handle the task effortlessly, leaving you with more time to create culinary wonders. Craft exquisite apple slices for your culinary creations. The Apple Master's slicing feature guarantees consistent, uniform slices that elevate the presentation of your dishes. Impress your family and guests with perfect slices that reflect your culinary finesse. Bid farewell to apple core struggles. The Apple Master's coring function makes core removal a breeze, leaving you with ready-to-enjoy apple rings or wedges. But that's not all - this versatile tool also lets you create captivating apple spirals, adding flair to your recipes.
Designed for your comfort, the Red Norpro 865 Apple Master features an ergonomic handle that ensures a comfortable grip. Glide through apples effortlessly and enjoy the process of transforming ordinary fruit into extraordinary delights. Crafted with durability in mind, the Red Norpro 865 Apple Master boasts sturdy construction and high-quality materials. Its sharp blades are engineered to deliver consistent results, making it an indispensable companion in your kitchen for years to come. Cleaning up after your apple adventures has never been easier. The Red Norpro 865 Apple Master disassembles effortlessly for quick cleaning. Rinse the components or let your dishwasher do the work - it's that simple
Measures: 5.25 inch x 9.5 inch x 4 inch / 13.5cm x 24cm x 10cm
Vacuum base holds it securely onto any smooth surface
Clamp can be used to secure to a rough or uneven surface up to 2.5 inch/6cm thick
Recipes and Instructions included
Hand washing is recommended