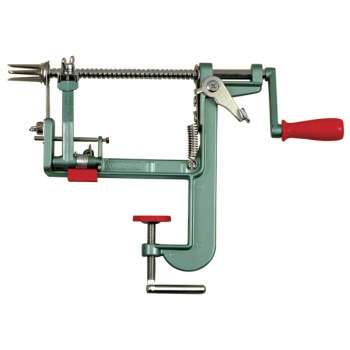 Click Image to Enlarge
Tired of spending time peeling, slicing, and coring apples? The Norpro 864 Apple-Mate 2 is here to transform your kitchen experience. With its advanced features and sleek design, apple preparation has never been this efficient and enjoyable. Why settle for basic tools when you can have perfection? The Norpro 864 Apple-Mate 2 redefines convenience with its deluxe paring, slicing, and coring functions. Elevate your kitchen game and enjoy the benefits of a sophisticated all-in-one tool.
Unleash the power of precision with the Apple-Mate 2's cutting-edge paring blade. Delicately remove apple skins, revealing the luscious fruit beneath. Bid farewell to tiresome hand-peeling and embrace the future of effortless apple prep. Craft culinary masterpieces with impeccable apple slices. The Apple-Mate 2's slicing feature ensures uniform, flawless slices for snacks, desserts, and garnishes. Show off your culinary finesse with elegantly presented dishes. Effortlessly extract apple cores with the Apple-Mate 2's innovative coring function. Say goodbye to core removal struggles and hello to a clean, precise core removal process. Enjoy ready-to-use apple rings and wedges without the hassle.
Designed with your comfort in mind, the Norpro 864 Apple-Mate 2 boasts an ergonomic handle that fits like a glove. Glide through apples effortlessly and savor the process of crafting delectable treats. Crafted to withstand the test of time, the Norpro 864 Apple-Mate 2 features durable materials and sharp blades that guarantee consistent performance. Make this deluxe tool a cherished companion in your kitchen for years to come. Bid adieu to cleanup woes. The Norpro 864 Apple-Mate 2 disassembles with ease, making cleanup a breeze. Rinse the components or let your dishwasher take care of the rest - it's that simple!
Measures: 7.5 inch x 9.5 inch x 1.5 inch / 19cm x 24cm x 4cm
Screw to tighten onto counters up to 1.75 inch/4.5cm thick
Recipes and Instructions included
Hand washing is recommended