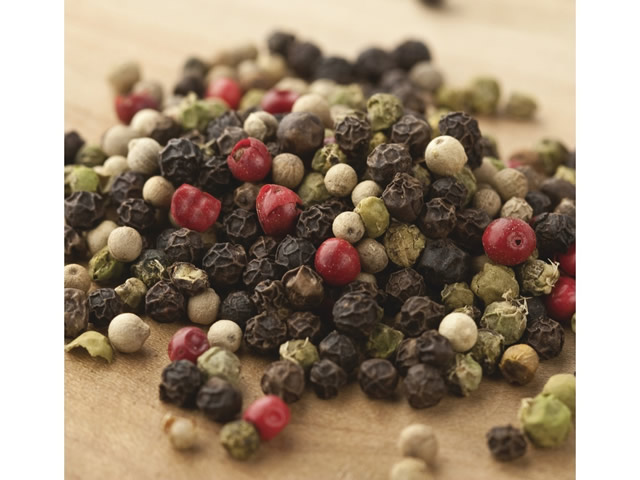 Click Image to Enlarge
This pepper mix is made of whole white, black, green and pink peppercorns. Each peppercorn offers a different flavor, the pink being slightly sweet, the black having a sharp and pungent flavor, the white having a hot, less subtle taste and the green offering a mild flavor and fresh taste. This mix can be used to flavor any dish, from soups and stews to pastas, meats and salads.

*Pink Peppercorns are in the same family as cashews. This item may not be suitable for those with allergies to tree nuts (cashews).
Ingredients: Black pepper, white pepper, green and pink peppercorns. **This product has no significant nutritional value.
*Pink Peppercorns are in the same family as cashews. This item may not be suitable for those with allergies to tree nuts (cashews).
Brand: N/A
Country of Origin: United States
Single Package Dimensions: 2.6in X 3.6in X 8.2in
| | |
| --- | --- |
| | We cannot ship any of these items to Alaska, California, Hawaii, Puerto Rico or Canada |
Order Item