Armillary Sundial
Available in five designs, our line of equatorial style armillary sundials seem to have dual personalities. The smooth curves and airiness inherent in the designs are sublimely graceful. All the while, the solid, thick castings and forceful arrow gnomon reach to the heavens with stubborn will. Gentle or forceful, these armillary sundials command attention and second glances.

Cold Cast Bronze Sundial
Cold Cast Bronze Sundials inseveral different styles and sizes. This unique casting technique offers the beauty of solid bronze at a price that is 30% less. The process involves bonding a layer of real bronze to the surface to a polymer and stone composite sundial. After casting, we apply an antique finish to the bronze. As with solid metal, the bronze layer of these dials will naturally weather and develop a beautiful patina over time.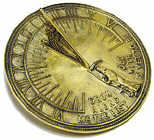 Solid Brass Sundial
Solid Brass Sundials in several different styles and sizes. Heirloom quality sundials that are non-rusting and require no upkeep. These sundials age naturally and gracefully to a patina finish. Most of our brass sundial designs have a two-toned finished with polished brass highlights over a darker patina background. This gives the sundial an aged look with a hint of sparkles from the polished areas.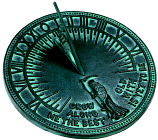 Solid Cast Iron Sundial
Solid Cast Iron Sundials in eight distinctive stylings. Cast Iron is a great alternative to higher priced sundials. The main trade off with cast iron is that it rusts. However the rust finish adds a natural look to these dials and is very popular. Some of our cast iron dials are painted with a verdigris finish and then lacquered to stave off oxidation, but even these dials will eventually rust. We also offer a few cast iron dials that are pre-rusted and then given a little bit of a whitewash finish.