Blue Poly Tarps

The Dize Weathermaster Blue Poly Tarp is the perfect product for general Home & Garden use. Tough, lightweight & easy-to-handle. UVI (Ultra-Violet Inhibitor) Treated for sun resistance. Waterproof, mildew resistant, rot proof, resistant to most chemicals.
Features:
•High Density, Rip Resistant Polyethylene Material
•UV Resistant, 4-5 mil. Thick
•8x8 Weave Count per Square Inch, 1000 Denier
•Lightweight, Approximately 3.1 oz. per Square Yard
•Original Blue Color
•Heat Sealed Seams. Rope-lined, Heat Sealed
and/or Double Stitched Hems
•Aluminum Rustproof Grommets Approximately
3 Feet Apart and in Each Corner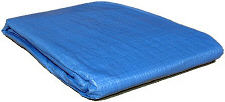 Uses: Patio Furniture, Picnic Table, Barbecue Grill Covers, Picnics, Camping, Fishing and Other Leisure Activities. Lawn, Garden, Construction and Repair Clean Up Aids. Air Conditioners, Sandbox and Firewood Covers. Auto, Truck, Motorcycle, Tractor, Tools and Equipment Covers. Temporary Protective Cover, Tents. NOT SOLD OR INTENDED FOR USE AS A FLAME RETARDANT ARTICLE.