Black-Silver Poly Tarps
The Dize Weathermaster Black-Silver Poly Tarp is designed for rugged use and continuous outdoor exposure. Both the Black and Silver sides are UVI treated for extended use in sunlight and are heat and cold resistant. The Black side of the tarp will absorb heat and divert ultraviolet rays. The silver side of the tarp reflects the sun's harmful rays. Waterproof, mildew resistant, rot proof, cold resistant.


Features:
•High Density Black Woven Treated Fabric, 1000 Denier
•UV Resistant Silver/Black Heavy-Duty Polyethylene
Material
•14 x 14 Count per Square Inch, 11-12 mil. Thick
•Weighs approximately 6 oz. per Square Yard
•1500 Hours UV Treatment
•Silver on Top, Black on Bottom Side
•Heat Sealed Seams. Rope-lined, Heat Sealed
and/or Double Stitched Hems
•Rustproof Grommets in Corners and Every 18 Inches
•Rugged, Durable, Construction Grade
•Longer Tarp Life for Year-Round Use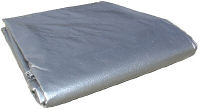 Uses: Construction Materials and
Equipment Covers. Straw, Hay Bales, Farm
Supply & Equipment Covers. Pool or Boat, RV and
Camper Covers. Patio Furniture, Picnic Table, Tent and Barbecue Grill Covers. Picnics, Camping, Fishing and Other Leisure Activities. Lawn, Garden, Construction and Repair Clean Up Aids. Air Conditioners, Sandbox and Firewood Covers. Auto, Truck, Motorcycle, Tractor, Tools and Equipment Covers. Temporary Protective Covers.
NOT SOLD OR INTENDED FOR USE AS A FLAME RETARDANT ARTICLE.