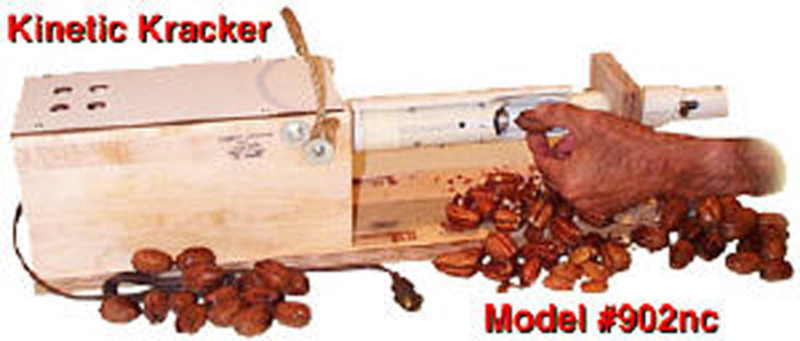 Click Image to Enlarge

The Kinetic Electric Nutcracker will crack a perfect nut every time! It is fast and easy to use, cracking out pecans at a rate 26 pecans per minute, 1,560 pecans per hour! The anvil automatically adjusts to any length nut, making it possible to operate this machine with one hand. Just drop nuts into the tube. Cracked nuts will drop out of the cylinder as it rotates. The easily adjustable shield prevents shell splatter, keeping messes contained and easy to clean. There is only one part to change when switching to larger nuts. This machine also has a handy carrying strap.
Cracks up to 1,560 pecans per hour, 26 per minute
Cracks nuts without crushing
Works well on soft shell nuts such as pecans, English walnuts, and brazil nuts
Simple to operate
Plug into any 110 outlet and drop pecans into tube. It will revolve at 20RPM leaving the shell and nut separated
Automatically adjusts for different sizes of nuts
Made with high quality plastic tubing, water resistant marine plywood housing, and high grade aluminum and steel parts. Includes a fan cooled gear-driven motor
Carrying strap included
Made in the USA!
6" X 7" X 26 3/8"