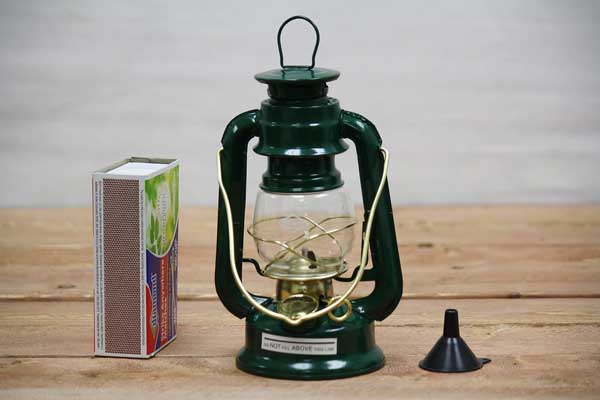 Click Image to Enlarge
Select Color:


7.5" Lantern Height
5 candlepower
10 hours Light Duration
4oz Fuel Capacity
Comes with 4" length of wick
5/16" wick width
1/16" wick thickness
Replacement Wicks: OBP29932
Replacement Burner: -
(Click here to see our V&O Lantern parts list.)

Small hurricane lanterns available in classic red and green. Old fashioned style. This little lantern complements rustic decor and is a great ambient light inside or outside. With a brightness of 6 candle power these small oil lanterns are great for reading a book or lighting personal space. If you're trying to cook dinner with a group you will need more light from a bigger lantern. These mini oil lanterns feature a globe raising side lever for easy lighting and wick trimming. Suitable for use inside or outside. Carry outside or hang along a wooded path with the top metal bail handle. They're so darn cute it's hard to resist rustic lantern centerpieces for the next summer night party. Made by V&O Lanterns.
FAQs:
---
Old fashioned oil lamps
-
Dietz oil lanterns
-
Parts of a kerosene lantern
-
Fundamentals of lantern construction
-
What is a hurricane lantern?
-
What type of fuel to use in old fashioned lanterns?
-
How to fill an oil lantern with oil
-
How do you light a lantern?
-
How to put out an oil lantern
-
Oil lantern operation tips
-
Storing lanterns
-
The differences of Dietz and V&O lanterns
-
Where are Dietz Lanterns made?
-
Where are V&O Lanterns made?
-
Dietz Lantern parts
-
V and O Lantern parts
-
Lanterns for Weddings