Dietz No 8 Air Pilot Lantern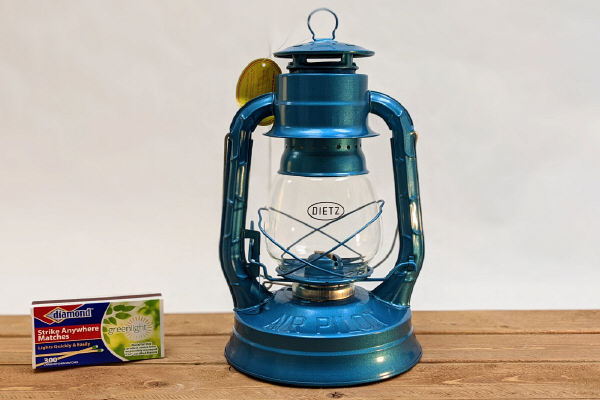 Click Image to Enlarge
Select Color:



This Dietz No 8 Air Pilot Lantern is built for sleeping under the stars, lighting summer parties, and for seeing your way through the dark. In the event of a power outage you will be happy to have it. The Dietz Air Pilot Lantern is available in five colors.
It has a smaller fuel tank capacity than the Dietz Jupiter 2500, but burns just as bright. The air pilot lantern is known for being one of the brightest burning lamps with its 7/8" wick. To maximize brightness and lantern burning efficiency practice the following basic care practices: Only burn fresh fuel in the tank. Keep the globe clean. Trim the wick periodically (more about wick trimming here.). Prevent soot buildup by keeping the flame low. Prevent rust and extend the life of your Dietz Air Pilot by keeping the lantern out of the rain.
The No. 8 lantern, just like all cold blast lanterns, use any kerosene, clean burning lamp oil, or paraffin oil to make light at night. Learn more about types of lantern oil here.
Any kerosene lantern will leak if it is overfilled. Fill only to 85% capacity, leaving a quarter-inch air space under the filler neck. The fuel is warmed during use and will expand. These lanterns will leak if filled above 85%. See fuel tank filling diagram and learn more about properly filling lanterns with oil here.
FAQs:
---